Absolutely NOTHING Beats A 'CONNY THE CLOWN' Birthday Party!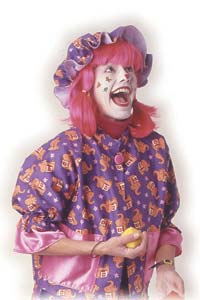 "Hiring 'CONNY THE CLOWN' was the single best idea we've ever had! Our Children didn't stop talking about it for months..."
(Source: Independent
QBI Client Survey 2002)
"Look what you can enjoy this month..."

1. Walk Around Clowning! Perfect for table-hopping, corporate shows and shopping centres

2. Exciting Magic Shows! Always a favourite with children (and their parents!)

3. Crazy Balloon Animals! These have kids lining up in droves!

4. Puppets! These have the kids laughing in no time at all!

5. Sing-A-Longs And Party Games! I'll keep your children amused, interested and happy!

6. Face Painting! You'll love the look on the childrens faces as they wait for 'their' turn!
Is it expensive?
No! In fact most people are very pleasently surpprised at just how affordable one of our 'CONNY THE CLOWN' shows actually are.
Lets face it. You want YOUR child to enjoy the best Birthday Party ever this year...
Well, I can help.
Why not take a break this year and let me bring all the entertainment to you...

I'll come to the party and perform my hilarious magic show for the whole gang -- and make certain your child feels like the star of the show!
To get the full scoop on how I can save you all the hassles of your typical Birthday Party, pick up the phone and call me now
on  0411 145 500
Warm Regards,
CONNY THE CLOWN
PS Mention That you heard about me via this website and I'll Include a Special Gift FREE when you book your party!
Quality Business Institute Endorsed...